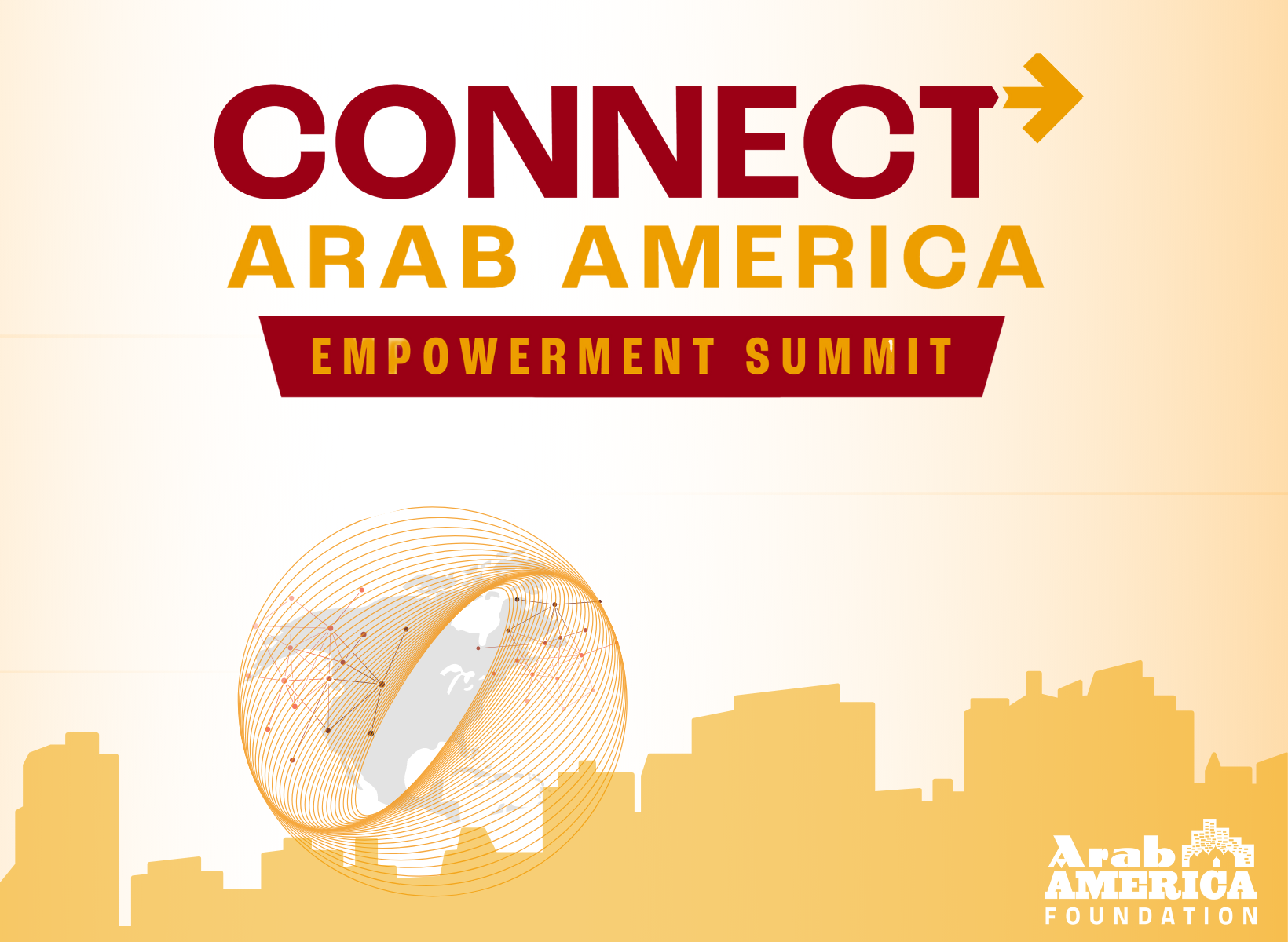 WELCOME FULLY VACCINATED REGISTRANTS!
See details below in FAQ.



REGISTER 
Friday, November 12 and Saturday, November 13
Registration includes all events and meals on Friday evening and all day Saturday .
General Registration
$299 per person
Early Registration
$249 per person
–Until October 3rd, then $299
Cousin Registration
$199 per person
–Until October 3rd, then $249 (To become a Cousin and qualify for Cousin Registration, Register Here)   
Rising Leader Awardee Registration
$199 per person
–For 40,30,20 Awardees Only.                                                           
Student Registration
$199 per person
–Must show valid student ID at registration.
Sunday, November 14
Optional event in addition to registration
Community Bus Tour
$125 per person
ABOUT
Register now for this year's second CONNECT Arab America: Empowerment Summit from November 12-14 in Dearborn, Michigan (November 14th is optional).
This historic in-person event connects and empowers Arab Americans across the country by engaging participants, performers, and exciting speakers in public service, business, influencers, and artists.
The Arab America Foundation (AAF) is a non-profit (501c3) educational and cultural organization. The mission of AAF is to promote the Arab heritage, educate Americans about the Arab identity, and to connect and empower Arab Americans with each other and with diverse organizations across the U.S.
EVENTS
FRIDAY Evening, November 12:
Registration and Information: 3-6:00pm 
6:00pm
Ahlan Networking Reception, and Dinner 
Attend the opening reception of the CONNECT Arab America: Empowerment Summit. Meet new friends and indulge in a tantalizing buffet of Arab cuisine. Visit the Arab American National Museum after the reception.
7:30pm
Buses Depart to Ford Performing Arts Center
8:00pm
National Arab Orchestra Concert 
Join the National Arab Orchestra (NAO) as they perform LIVE at the Ford Performing Arts Center in Dearborn, MI for the first time since the pandemic began. The NAO is an internationally recognized arts organization that preserves and integrates Arab culture through music. The concert will feature the NAO Takht Ensemble as well as some of the country's most talented artists.  Don't miss a fantastic evening of great music and celebration that will be sure to make you feel alive with joy! 
10:00pm
Buses Leave Ford Performing Arts Center for Doubletree Hotel
SATURDAY Daytime, November 13: 
Registration and Information: 8-4pm
8:00am
Man'oushe, Foul, and Qahwa Networking Breakfast 
Meet and get acquainted with summit attendees before the summit at this buffet breakfast and networking event.
9:30am
CONNECT Arab America: Empowerment Summit
Featuring an exciting array of speakers in public service, business innovators, influencers, recognition, and exciting performances.
12:00 Noon
Sahtein Networking Lunch 
Meet Arab American attendees from throughout the U.S. 
1:30pm
CONNECT Arab America Empowerment Summit
Featuring an exciting array of speakers in public service, business innovators, influencers, recognition, and exciting performances.
4:00pm
Breakout Meeting: State Teams
5:00pm 
Daytime Activities End
SATURDAY Evening, November 13:
6:30pm
Buses Leave Doubletree Hotel for Fairlane Banquet Center
7:00pm
Al-Rabitah Gala and Hafla 
The event of the year! Celebrate your heritage at this formal event featuring authentic Arab cuisine, special recognition, Arab music, and dance in the heart of Arab America.
11:00pm
Buses Leave Fairlane Banquet  Center for Doubletree Hotel
SUNDAY, November 14
Optional Community Bus Tour
9:00am
Bus Leaves Doubletree Hotel
9:30am
Breakfast at New Yasmeen Bakery
Enjoy good company and fresh baked Arab delicacies at New Yasmeen Bakery in Dearborn.
11:00am
Visit to Henry Ford Museum
A national historic landmark with an unparalleled collection of artifacts from 300 years of American history, The Henry Ford is a force for sparking curiosity and inspiring tomorrow's innovators. Rosa Parks' Bus, Kennedy's Presidential Limousine, Thomas Edison's Menlo Park Complex and the Wright Cycle Shop, are just a few of the attractions.
1:00pm
Box Lunch 
Enjoy shawarma and falafel from a renowned Dearborn eatery.
2:00pm
Visit to Detroit and the Motown Museum
Although the interior of the museum is closed due to construction, celebrate the legacy of Motown by enjoying their outdoor space, including snapping your photo on the iconic front steps of Hitsville USA, walking around the new "Still Going On" outdoor exhibit, exploring their retail pop-up shop, and singing along to Motown music in their Dancing in the Street Park.
4:00pm
Tour Arab Dearborn–the heart of Arab America
If time permits, stops at Greenland Market and Shatila
5:00pm
Tour Concludes
HOTEL
The CONNECT Arab America: Empowerment Summit will take place at the Doubletree Hotel Dearborn.  
The hotel is nine miles from downtown Detroit and minutes from Detroit Metro Airport (DTW). This full-service hotel is conveniently located off the Southfield Expressway at Ford Road, with easy access to I-94, I-96 and all major Detroit-area thoroughfares.
We have negotiated a special discounted group rate of just $134 per night. We suggest you reserve as soon as possible–the hotel has reserved a limited block of rooms at this discounted rate. 
REGISTER HERE Online for Special Discount Rate
Or call Hotel at 313-336-3340 to make a reservation.
EXHIBITORS
If your organization is interested to exhibit at the CONNECT Arab America: Empowerment Summit, please contact:
Warren David at: wdavid@arabamerica.com or 313-999-6000
WFAQ
Frequently Asked Questions
COVID Safety
Your safety is our top priority. We are closely following CDC and State of Michigan Guidelines. We require all participants to be "fully vaccinated" and will ask to see your COVID vaccine card when registering onsite. In the interest of safety, all service providers will be masked. Additionally, we encourage registrants to be masked. We will conduct daily temperature screenings of guests, encourage social distancing, and hand hygiene. We will keep you posted if there are any further updates. 
How do I complete a registration?
Click the Register tab from this website
Enter to Eventbrite landing page
Click the green TICKETS button.
Choose the tickets you want and the amount of tickets from drop-down menus.
Click the red GET TICKETS button when done selecting.
Once registered, you will receive an email confirmation. 
How do I register at the Doubletree Hotel?
You must register separately at the Doubletree Hotel link for room reservations at 313-336-3340. 
Can I register onsite?
You should pre-register online prior to the summit, but if you have not, you can register upon your arrival. After checking in to the Doubletree Hotel you can immediately go to registration in the lobby. All registrants will receive their name badge, wristband, and event tickets when they register.
Will I have to wear a wristband the whole time I'm at the convention?
Yes, and this is for your benefit. The wristbands must be worn at all times and will be required to enter events. This is the fastest way for security to know you are a paid registrant.
What if I have any questions?
Email info@arabamerica.com if you have any questions or issues registering or call 877-272-2944